Dogelexus – Menpora-PWI conducts MoU DBON on HPN 2022 in Kendari

Kendari (ANTARA) – Minister of Youth and Sports (Manpora) Zainudin Amali confirmed the collaboration with the Indonesian Journalists Association (PWI) in disseminating the National Sports Grand Design (DBON).
The Memorandum of Understanding (MoU) of the cooperation will be signed on the National Press Day (HPN) February 9, 2022 in Kendari, Southeast Sulawesi.
"I am ready to attend HPN in Kendari and Siwo Pusat, which will socialize DBON during the National Work Meeting and give awards to national sports initiators," said Menpora Zainudin Amali through a PWI release received on Friday.
DBON as the embodiment of Presidential Decree No. 86 of 2021 is very much needed. The reason is, Presidential Decree No. 86 of 2021 concerning DBON will work well in the regions, especially in 10 centers if it involves the media as a control function.
"We are ready for cooperation. The involvement of the press is very important to remind local governments in their duties regarding Presidential Regulation No. 86 of 2021," said Zainudin Amali when receiving the Central PWI in his office in Senayan Jakarta (14/1).
Menpora in the meeting was accompanied by Deputy IV for sports coaching achievements Chandra Bakti and special staff Mahfudin Nigara. Meanwhile, the Central PWI was led directly by the General Chairperson of Atal S Depari, Secretary General Mirza Zulhadi and the Chairperson of Siwo Pusat Gungde Ariwangsa and secretary Suryansyah.
"This is the president's order. There is an order for regional heads to form a coordination team. If they haven't formed it yet, it means that they need to be reminded," said Amali.
It was further said that if the press played an active role in socializing it, it was hoped that DBON information could be well absorbed by Indonesian sports people.
In the hearing, the General Chairperson of the PWI Pusat, Atal Depari, said that the Sports Journalists Section (Siwo) is not only a professional journalist in the field of sports. But also as a stake holder who has a strategic role in developing national sports development.
"They are not only experts in writing sports news, but also as one of the stakeholders who are able to stimulate athletes to excel," said Atal Depari.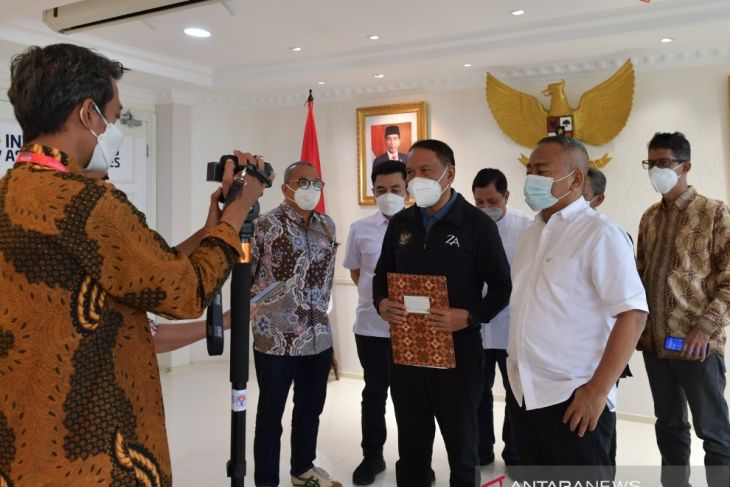 To be more concrete and sharpen the socialization, Atal S Depari submitted a draft MoU which will later be signed in a series of HPN commemorations in Kendari, Southeast Sulawesi.
"Mr. Menpora, to be more concrete about the importance of DBON socialization, we from PWI, especially SIWO, submitted the draft MoU. Later, through the Deputy, so that it will be studied and finalized later it will be signed in the HPN series in Kendari," said Atal.
Furthermore, it was said that the memorandum of understanding did not only socialize DBON to all Siwo representatives in 35 regions from 34 provinces. But there are other items that are no less important.
Atal Depari said there is a plan to create a Greater Indonesia National Sports Information Center (Pioneer) which can be a reference for knowledge and news about the development of sports in the country. Also Indonesian talent scouting to support the search for talented seeds from 14 DBON priority sports.
Read also: PWI will socialize DBON during the commemoration of National Press Day
Read also: The Chancellor of Unnes is ready to support the implementation of DBON
Read also: Yayuk Basuki and IOA are ready to support DBON implementation
Reporter: Abdul Azis Senong
Editor: Dadan Ramdani
COPYRIGHT © ANTARA 2022
Doge lexus – Menpora-PWI conducts MoU DBON on HPN 2022 in Kendari

Ikuti terus berita terupdate seputar dunia sepak bola jadwal bola dan prediksi jitu bersama Dogelexus.
Doge lexus adalah agen Bo Slot Online terjamin membayar dan terbesar saat ini di Indonesia yang sudah tidak diragukan lagi dalam hal melayani dan membantu masalah yang dihadapi member dalam hal pembuatan akun dan masalah betting. Hanya dengan deposit setiap hari anda sudah mendapat bonus setiap harinya.
Selamat datang di Doge lexus dapatkan penawaran spesial dari kami :
– Bonus Rollingan 0,8%
– Bonus Deposit Harian 10%
– Bonus Newmember 20%
– Bonus Cashback 15%