Dogelexus – Minister of Tourism and Creative Economy is optimistic that East Indonesia's human resources will be able to revive the creative economy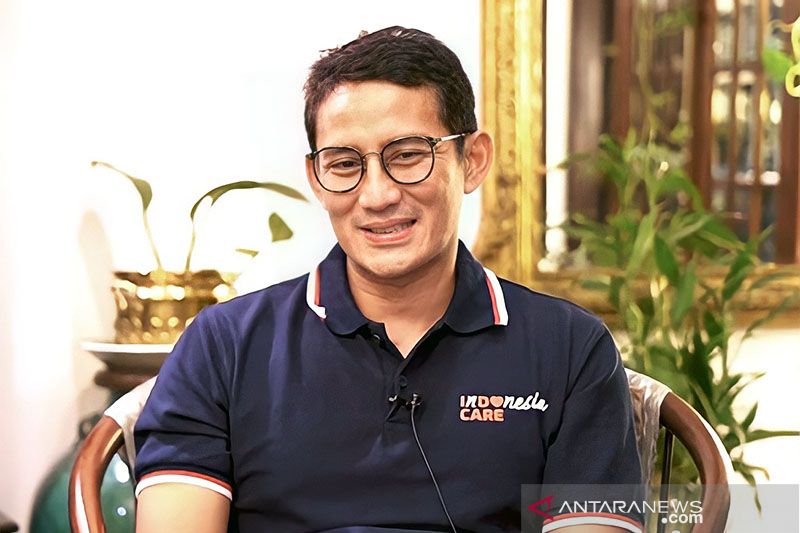 Minister of Tourism and Creative Economy is optimistic that East Indonesia's human resources will be able to revive the creative economy
Jakarta (ANTARA) – Minister of Tourism and Creative Economy Sandiaga Salahuddin Uno is optimistic that human resources in Eastern Indonesia are able to support the rise of the creative economy.
Sandiaga said the COVID-19 pandemic forced all Indonesians to innovate, adapt, and collaborate in seeing great opportunities, especially in Eastern Indonesia.
"Especially the human resources, I am optimistic that the human resources from our friends in Eastern Indonesia are extraordinary and can be part of the revival of 34 million Indonesians in the tourism and creative economy sectors," Sandiaga said in a webinar on Friday.
Read also: Sandiaga hopes that CHSE will become the main standard for tourism sector services
To be able to compete, it takes enthusiasm to rise up in the face of the challenges of digital disruption 4.0. Not only that, original ideas can also be a new force for the creative economy.
"We need to survive but also revive and pride. This is what is called the main source of creativity, which is original, unique and renewable, which is owned by each individual," said Sandiaga.
The Ministry of Tourism and Creative Economy always strives to provide support in developing and increasing human resource capacity, especially in the tourism and creative economy sectors.
Young people are expected to be able to develop superior potential in their respective regions, including the success of the Proudly Made in Indonesia movement.
Read also: Kemenparekraf supports the Jakarta Desert Week 2021
"So this is what I want to invite, East Indonesian children, let's develop sectors that have the potential to absorb a lot of workers and also revive the East Indonesia economy," said Sandiaga.
To be able to compete with foreign products, prospective developers of the creative economy sector must be able to see opportunities, create original products, have a target market and digitize.
In addition, creative economy actors must also be willing to innovate, adapt and collaborate to be able to develop and increase the advantages of their products.
"Digitalization is the most important thing. I will continue to give you the 3G motto, move fast, move together and gaspol is working on all potential online," said Sandiaga.
Read also: Sandiaga: Improving the Tanjung Lesung SEZ will boost parekraf's performance
Read also: "Geber Parekraf Peduli" has vaccinated 701,989 people
Read also: Sandiaga: There are many achievements of the creative industry to be grateful for throughout 2021
Reporter: Maria Cicilia
Editor: Suryanto
COPYRIGHT © ANTARA 2022
Doge lexus – Minister of Tourism and Creative Economy is optimistic that East Indonesia's human resources will be able to revive the creative economy

Ikuti terus berita terupdate seputar dunia sepak bola jadwal bola dan prediksi jitu bersama Dogelexus.
Doge lexus adalah agen Bo Slot Online terjamin membayar dan terbesar saat ini di Indonesia yang sudah tidak diragukan lagi dalam hal melayani dan membantu masalah yang dihadapi member dalam hal pembuatan akun dan masalah betting. Hanya dengan deposit setiap hari anda sudah mendapat bonus setiap harinya.
Selamat datang di Doge lexus dapatkan penawaran spesial dari kami :
– Bonus Rollingan 0,8%
– Bonus Deposit Harian 10%
– Bonus Newmember 20%
– Bonus Cashback 15%