Dogelexus – Pertamina's women's team is firmly at the top of the 2022 Pro Liga standings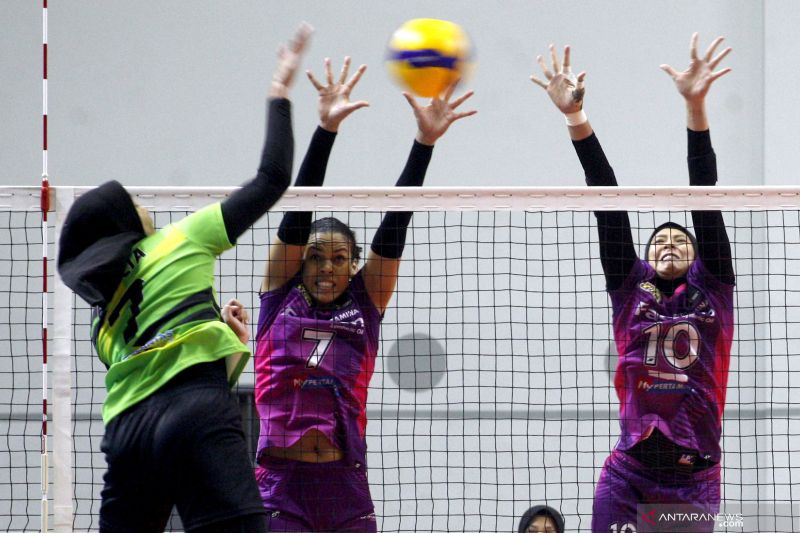 Jakarta (ANTARA) – The women's volleyball team Jakarta Pertamina Fastron temporarily leads the PLN Mobile Proliga 2022 standings after bagging six points from two consecutive wins.
In the last match at the Kunarto Police Volleyball Padepokan, Sentul, Bogor, West Java, Friday (14/1), Pertamina succeeded in defeating the defending champion Jakarta Mandiri Popsivo Polwan, with a score of 3-1 (19-25, 25-18, 25-25). 14.25-19).
Pertamina's success in the last two matches cannot be separated from the material being more evenly distributed. Octavian's squad play is also more varied.
But on the other hand, said Octavian, competing teams like Popsivo come with incomplete compositions. "I think the opposing teams are still not optimal. Many teams have not been strengthened by two foreign players," said Octavian.
On this occasion, Octavian also said that there were still a number of notes for Niverka Marte and his friends to further mature themselves ahead of the next match.
"There are still many shortcomings. For example, the setter's accuracy is not right and others. But our performance in the second match was quite a bit up and we were able to win," Octavian added.
Jakarta Pertamina Fastron will continue its journey in the most prestigious volleyball competition in the country against Jakarta Electric PLN on Sunday (16/1).
Meanwhile, in the men's sector, the defending champion team Surabaya Bhayangkara Samator lost to Jakarta BNI 46 with a score of 2-3 (30-32, 33-31, 20-25, 26-24, 15-17).
The match was very tight from the start. The difference in numbers between the two teams is not far. So the match which was colored by many protests with the leadership of the referee lasted for three hours and three minutes.
For Samator, this is the first defeat of the season. In the two matches played, Samator won 3-1 over Palembang Bank SumselBabel (26-28, 25-19, 25-22, 25-22) and Kudus Sukun Badak 3-1 (25-22, 23-25, 25-20, 25-17).
As for BNI 46, this is the first victory. Previously in the first series, last week, the team made by Samsul Jais lost to Jakarta Pertamina Pertamax 0-3 (23-25, 15-25, 20-25).
"This match was the first in the history of the Proliga that many mistakes were made. The match was tight with a two-point difference for each match. Psychologically, as a team, we already understand the strategy we want to follow," said Jakarta BNI 46 coach Samsul Jais after the match.
In yesterday's match, Jakarta BNI 46 protested against the leadership of the referee. Dimaz Saputra and his friends felt that referee Haryono had harmed because of his decisions in the fourth and fifth sets. In fact, they had refused to compete.
According to Samsul Jais, the referee's decision had an impact on the players. "I think in the future Proliga must evaluate because the referee's leadership was not good tonight (yesterday)," Samsul added.
Meanwhile, the coach of Surabaya Bhayangkara Samator, Sigit Ari Widodo, admitted that he was unlucky in the match. In the fifth set, BNI 46 was able to take advantage of some momentum so that they could win. Instead they made a number of mistakes.
"We were unlucky in this match, in the fifth set BNI had momentum and technically we made some mistakes. Our foreign player, Marko Sindelic, did not participate much in this match," he concluded.
Read also: Popsivo is more ready to face Pertamina in the second week of Proliga 2022
Read also: Pertamina women's team rely on service to face Popsivo in 2022 Proliga
Read also: Pevoli Nurlaili is in the spotlight with Elektrik in the 2022 Proliga
Reporter: Muhammad Ramdan
Editor: Dadan Ramdani
COPYRIGHT © ANTARA 2022
Doge lexus – Pertamina's women's team is firmly at the top of the 2022 Pro Liga standings

Ikuti terus berita terupdate seputar dunia sepak bola jadwal bola dan prediksi jitu bersama Dogelexus.
Doge lexus adalah agen Bo Slot Online terjamin membayar dan terbesar saat ini di Indonesia yang sudah tidak diragukan lagi dalam hal melayani dan membantu masalah yang dihadapi member dalam hal pembuatan akun dan masalah betting. Hanya dengan deposit setiap hari anda sudah mendapat bonus setiap harinya.
Selamat datang di Doge lexus dapatkan penawaran spesial dari kami :
– Bonus Rollingan 0,8%
– Bonus Deposit Harian 10%
– Bonus Newmember 20%
– Bonus Cashback 15%